How Wix is Changing the Way We Build Web Sites
Think back just a few years and how different the internet was. Nearly a decade ago there was no Google, around five years ago there was no Facebook and can you even imagine the progression of the internet and web sites being the same with out the introduction of WordPress? It's quite amazing.
When I created my million dollar web site back in 2006 I was cranking out thousands of pages in straight HTML and spending endless nights working on new pages and getting as many pages of content out there as I could. Sure, I could have used a programmer and made the process easy, but then it would have taken more time and I would have had to find a programmer I could trust.
At the time this was even before WordPress and blogging was big. Ugly html sites is what I was good at at the time. I open up Microsoft Frontpage, use a bunch of tables, upload the images, check the html and links, then upload all of the content through FTP. It was a long and annoying process… but it worked!
Ah yes… those were the days! Now where have all the complications of running a web site or blog gone?
Companies like Wix.com have made it easier than ever for people with NO technical skills to create a web site in just minutes.
There is no need to know anything about HTML, coding, uploading files, installing plugins or even FTP!
The future is looking bright for anyone who ever wanted to create a web site or blog of their own, yet never wanted to learn the nasty details of how everything works.
The truth is also in the numbers…
Over 26,756,521 sites have now been created through Wix's web site and platform.
How to Create a Free Web Site with Wix
The numbers speak for themselves, but I wanted to sign up and see just how simple it was. Amazingly enough, all it takes is an email and password to get started, you choose the category for your site and then a design. Once you pick the template you can edit it right within the browser with their simply click and edit editor.
I created the test page below in less than five minutes. It really is a matter of choosing the template you like, then replacing the content with your own.
You can visit the Wix.com main page and see an assortment of designs and templates that are possible through their web site.
While the concept behind Wix's success lies in their free web hosting packages, their monetization comes through their premium packages which allows people to add a domain, shopping cart, increased storage / bandwidth and much more to their sites. Prices range from $4.08 to $16.17 a month depending on the features you'd like to add to your site.
Wix.com are Marketing Gods in the Web Hosting Niche
If you've ever searched Google for "free web site" related terms, there is a good chance you've come across some of Wix's premium advertising. I previously wrote about the success of Wix.com over at PPC.org in my How Wix.com Became a #1 Site Builder Using PPC Advertising post. For all of your ppc marketers and lovers of ad copy and media buying, I greatly recommend you check it out. Here's an incentive to get your taste buds wet… Wix spends over $25,000 a day in pay per click advertising!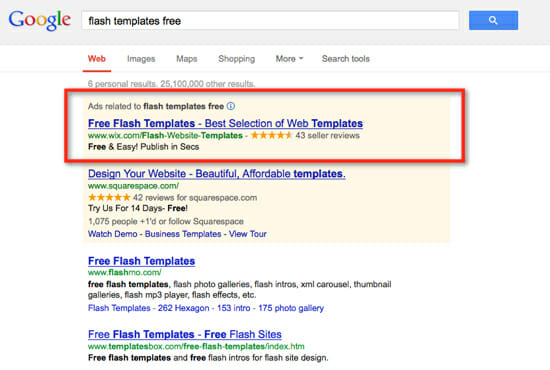 As you can see… Wix knows not only how to create an amazing service for allowing people to create free web sites through their easy to use system, but they also know how to grow a company multiple times over through the use of online advertising.
Check out their web site and be sure to create a free web site in the process!
(Visited 52 times, 1 visits today)
Wait... before you leave, consider these top resources: