SEO PowerSuite – Ranking Your Way to the Top of Search Listings
When it comes to SEO and link building management, you have a lot of options. You can outsource everything, do guest posting on blogs, try your hand at article marketing and so much more… one of the most popular software packages out there for managing all of your SEO efforts, is called SEO PowerSuite.
The days of buying massive amounts of links and hoping for the best, are over. Google, Yahoo and Bing are much smarter in the way they rank and list web sites in their directories, which means you need to be smarter about your link building efforts as well. I previously wrote up a review on the software several months ago, but the SEO Powersuite team has made a bunch of noteworthy updates, which I wanted to make everyone aware of.
SEO PowerSuite is a premium package that built up of four quality SEO scripts; rank tracker, website auditor, seo spyglass and linkassistant. Let's take a deeper look at each of the components that make up SEO PowerSuite, and what they can do for your web sites.
Rank Tracker
The first component of the SEO PowerSuite package, is the Rank Tracker. Through Rank Tracker, you can see exactly where your web site is showing up in the rankings, while also comparing your listing with other competitors for relevant search terms. Whether you are looking for exact match keywords, most relevant or your top ranked terms, Rank Tracker will pull a nice report together with all of your rankings.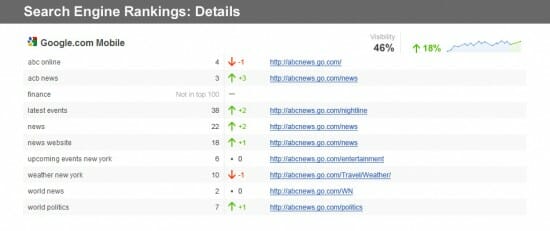 If you've ever used Rank Tracker before, or read about it in the previous review, you will notice and appreciate the new design on their keyword reports. In addition to providing more detailed information, the reports are now more visually appealing as well. Pull up a keyword report and you will find where your web site is ranking, all associated keywords and any changes in your keyword rankings since your last report. The "visibility" in the top right corner will also give you a quick glance at your overall visibility and gives an idea of your competition and market you can still be missing out on. Refer back to the main Rank Tracker workspace and you will be able to generate full reports on the historical progress of their web site and associated keywords.
SEO SpyGlass
The second tool in the SEO PowerSuite package, is SEO Spyglass. An important tool for managing and tracking all of your web site backlinks. This backlink checker will create detailed reports breaking down all areas and type of incoming links to your site, which you can see in the screenshot below.
The more visually appealing a report is, the easier it is to understand and grasp the key points and factors that matter. SEO Powersuite has revamped their backlink reports wit the addition of pie graphs, which makes it easy to tell where your big links are coming in, with just a quick glance at the report. SEO SpyGlass will also provide full reports on what backlinks are text based or image based. It's also important to have access to the different types of TLDs linking back to your web site, along with anchor text… all of which are provided in SEO SpyGlass reports.
WebSite Auditor
WebSite Auditor is the third piece of software in the SEO PowerSuite package. The performance of how your web site will rank in the search engines, is not just dependent on your content and incoming links, but also how your web site is built and structured. Having a fast loading site and the proper structure with your title, body and H1 tags is extremely important. Through the use of the Web Site Auditor, you can make sure your web sites are always running at maximum performance.
Instead of continually showing you what the actual reports look like, this time I wanted to show you what the actual software and behind the scenes would look like. In the screenshot above, you can see what your stats and reports would look like in WebSite Auditor, before converting them into a fancy report. All information is sortable depending on your desired setting and preference.
LinkAssistant
To complete the review of the four different programs that create the SEO PowerSuite package, let's cover the LinkAssistant. Through the use of the LinkAssistant, you can manage and build new possibilities for gaining important one/two-way and relevant links back to your web site. In short, the software tool can be best explained as a link exchange tool, which allows you to find potential and related web sites that might make for a good link trade. One of the biggest pains about exchanging links with other web sites, is having to worry about them removing your links, while you still keep theirs up. That is no longer a problem, as all of this heavy reporting and tracking is done through LinkAssistant.
As shown in the previous software mentioned, in the screenshot above you can see what it would look like in the actual software as you were building and pulling backlink reports for a web site. If you prefer simple reports, stick to the application, or you can always pull up the fancy reports and blow your mind with their dazzling charts and easy to read reports. The key perks of using Link Assistant, is it's ability to manage your link partners, which includes their names, email addresses, verification status, and more.
A Total Package for Managing SEO and SEO Reports
The process of managing and working on SEO is not something many people are thrilled about, but when you have the proper software and reporting to keep everything in order and tracking updates for you, it makes it that much easier for you. SEO PowerSuite has been one of the top players in the SEO optimization and management market for some time now.
It's great to see them continually update and improve their software, while so many other companies in this industry release a product, then you never hear from them again. The new reports from SEO PowerSuite not only make it easier for their users, but also improves reporting that you can provide to your customers if you are providing or serving SEO services to third party web sites.
There is a free version, as well as Professional ($249) and Enterprise ($599) licenses. Visit https://www.link-assistant.com/ to download your trial version of SEO PowerSuite.