Startup Challenge: Growing Your Company
What does it take to bring your company to the next level? I've thought about this ever since I start making money online over a decade ago. For a lot of companies starting out, they may start with a family member, or best friend. I believe once you have a two person company, it's that much easier to expand and bring people in. However, when you are a one man company, bringing someone in and expanding can explode your business, cost you everything or a mix in between. In today's article, I will try and give some overviews to help with your options on growing your company.
There is no easy answer to the question, and it really comes down to who you are and how you manage your business. I've talked with many companies and their CEOs over the years and asked how they expanded and became what they are today. Outside of the one's who started with a friend or family member, it was often said that they finally just found some great people to work with, and went with them, usually from interview processes. Another idea was to hire college students part time and see what happens… however, this is where I was turned off, as "YOU" are the company, and now bringing in someone who has no idea about the company and might just be looking for a part time job.
When running your business, you mainly have three options:
1.) Staying a One Man Company
2.) Expanding and Bringing in Staff
3.) Outsourcing & Hiring Virtual Assistants
Personally, I've worked with a lot of people on building web sites, setting up new partner campaigns, and just helping each other out. I've also done my fair share of outsourcing and use of virtual assistants. Though I still wonder what it would be like to run a larger company with employees… but at the same time, I still want the freedom I have to do whatever I want, and whenever, without having to worry about staff, trusting who I hire, paying their salaries etc… That's just me, but that day may still come. As I mentioned, it all depends on your end goal and how you want to run your business.
One of the best ways to make a decision about growing your business, is to attend conference and trade shows to talk with other successful people who went through the same process. Networking and building relationships with others may even be the start of your company growth, should you find someone in the same situation and you partner up with them. Events like Affiliate Summit, ThinkThank, EliteRetreat will give you the opportunity to meet with some of the most successful people online and that were once in your situation. It's this kind of support and contact that retail / brick and mortar businesses usually don't have access to.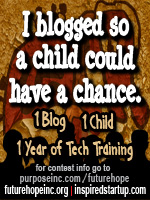 My friend Andy recently went live with his own blog, and also just went live with a new promotion called "The StartUp Challenge". The goal of the promotion is to spread the word on FutureHopeInc.org. For every blog that participates in the promotion, Purpose, Inc. will donate for one underprivileged child from El Salvador to be sent to computer training for a year. In addition, two bloggers/winners will be selected to win a free full pass to ThinkTank + $500 (first place) and StartUp Day (second place). This promotion ends tomorrow, so if you want to win, get your entries in quick!
Share your situation or story on how you plan (or have) to grow your company beyond a one or two man operation.